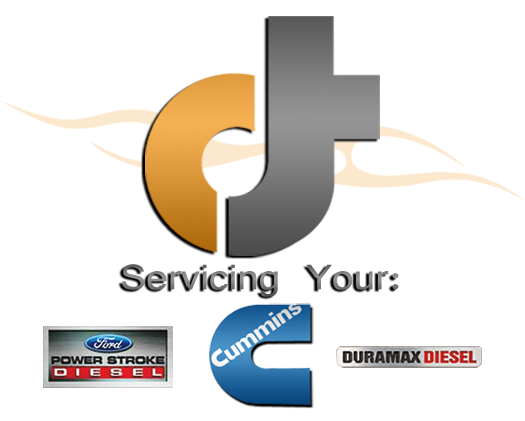 Another thing that's been keeping me busy lately is my husbands new shop Dieseltec. Not art related? pffft…who do you think had to create the logo, business cards and any related graphics?? Not to mention advertising, office work, and well pretty much anything you can think of related to setting up a new shop.
[NOTE: This is a blatant advertising plug, because it's my blog and I can!]
My husband Brian, has been working on Diesel trucks for years. For fun, as a profession, on the side, etc. So obviously the next step was to move into a new shop. And thus, Dieseltec was created!
There aren't many places in Grand Rapids or West Michigan that specialize, or even work on Diesel Pick-up Trucks. At Dieseltec we cater to the big three: Cummins, Duramax, and Powerstroke. And we don't do just repair, or just performance, we do it all!
Can't find a place that does a Diesel engine oil change? Or does it right? Stop on in! Truck running a bit rough and your not sure what's wrong with it? We do computer diagnostics! Got an injector out? No problem! Rough start on a cold morning? Got exhaust problems? How about you just want MORE POWER! Make my husband giddy, he LOVES tuning trucks and showing people what they are really capable of! (I swear…boys and their toys!)
Check out Dieseltec's Services Page.
If you own a Diesel Truck, or if you just love Diesels, and live in the Grand Rapids, Mi Metro area, stop on in!
3545 Viaduct St SW, Grandville Mi 49418
And don't forget to join us and become a fan of Dieseltec on Facebook!
---
The cover for author Lyndi Alexander's upcoming paranormal suspense novel, "Love Me, Kiss Me, Kill Me" brought to you from Hydra Publications.
Available now on ebook!
BLURB: Running away isn't necessarily the answer.
In her mad rush to escape a failed marriage, Sara Woods takes the first job available and lands in the middle of a mystery. Her first assignment as a news reporter for the Ralston Courier is the investigation of a string of deaths, all young women, all her age.
She becomes a patient at the Goldstone Clinic, a local mecca of healing, to deal with chronic pain from her past. But all is not as it seems at the Goldstone, its doctors and nurses are all the picture of perfect beauty and health. Patients at the clinic first seem to get better, then they deteriorate. Sara enlists the help of Dr. Rick Paulsen, who teaches her how to access her internal power, skills she never knew she had, revealing secrets from her past. Police officer Brendon Zale also takes an interest in Sara, but he acts like a stalker, watching her every move, and he won't leave her alone.
As she digs deeper into the story, and more young women die without explanation, she tries to choose allies wisely, but not till the last confrontation does she discover the identity of her true enemy.
By then, it's too late.
---
Book two in author CJ Archer's Emily Chambers Spirit Medium Series, "Possession" is in the works and will be available on ebook and print this September.
BLURB:
When the ghost of a notorious killer possesses the body of an upper class youth, London's pre-eminent medium, Emily Chambers, must exorcise it before the spirit goes on a rampage. As if this isn't distraction enough, she must fight her feelings for brooding ghost, Jacob Beaufort, who doesn't like the new man in her life – the handsome and very much alive, Theodore Hyde.
With reputations and lives at stake, Emily discovers that navigating the poorest suburbs of London in search of the evil spirit is almost as dangerous as finding her way in a Society that thinks "freaks" like her belong in the circus.
.
And the print version:
---