LOVE DOGS? LOVE WHODUNNITS? ENJOY A TASTE OF CANI-CRIME.
Check out the cover for author Karen Wolfe's first book in her new Georgie Crane Comi-Crime series, "Dogsbody".
Now available in print and ebook!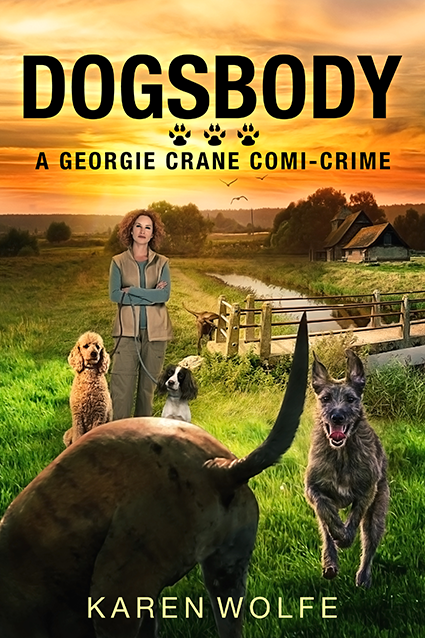 Georgie Crane, dog-whisperer, is a woman who can't say no…hence her huge pack of canine last-chance misfits. Add in one half-submerged body, sixteen nosy dogs, a scavenged set of dentures and a dismembered finger wearing an intriguing ring, and Georgie finds herself unwittingly withholding evidence from the gorgeous DI Matt Turnbull, investigating officer. In between rehabilitating the rescued (dogs) training the untrainable (owners), organising a charity Fun Day, preparing for frst-time grandmotherhood and fending off her reconciliation-bent ex, there's little time for second-time around romance. And then of course, there's her Mother….. A second body with links to the first gives Georgie an opportunity to help uncover a calculating killer, but can she do it in time to win Matt's love and admiration? Only dogged determination will tell!