I wanted to do a post that had nothing to do with book covers.  Remember, this blog was created WAY before I started making book covers and was used for shameless self promotion. Not that I'm posting this to shamelessly self promote, ok, maybe a little, but not much. It's actually another photography post.
I recently finished my second Critique Your Photography Class with Will Fields Photography Workshops, (who happens to be running a Living Social Deal) and thought I'd share some of the works that came from that time frame. Some were taken for the assignments, some just taken because I was in the groove. Warning! There's a lot of pics again! The class was 4wks, but spaced over every other week. So I have 8 weeks worth

The first assignment was to take a picture of the same spot/thing using the same camera settings at least two different times of the day trying to hit the magic hours to compare the lighting. Like Morning/Noon, Noon/Evening or throw a cloudy day in there. One thing that was really brought to my attention during this assignment, was the direction you were facing vs time of day. Such a silly thing, but I don't think I ever gave it thought before.
These are all unedited, with the exception that I took the time to place them side by side and label the time of day. They were also all taken at Maplewood Lake in Jenison, Mi  I think I had more fun trying to find the exact spot again than anything else. LOL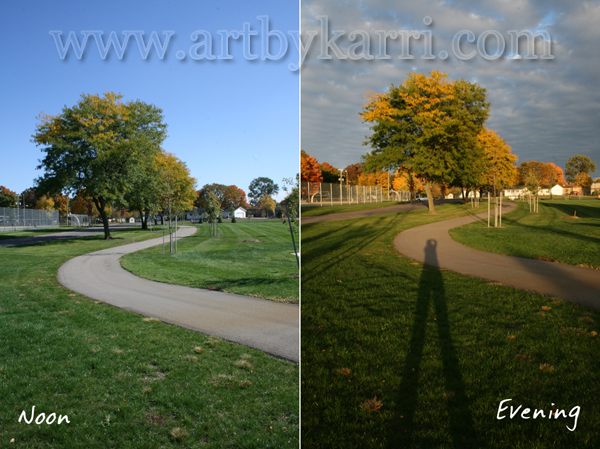 And of course I had to take a couple and edit them just a tiny bit, if not just an auto contrast!!!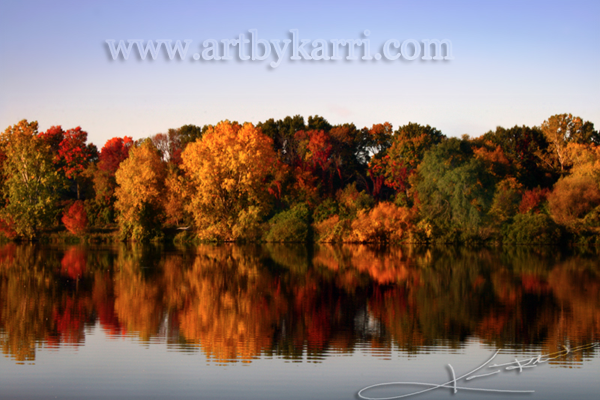 This next set wasn't taken for an assignment. We had a Gale Wind Warning in Grand Haven, so a couple of us ran out to the pier one night.
Some of these I was playing with long exposure.
I've decided I really like taking night shots!
The next assignment was colors.  How color makes the picture.  Good thing we were at peak fall colors!
These were taken at Hagar Park, Jenison, Mi.
I like this one (above) because there's naturally a rainbow. See how it goes from the red leaves to orange, yellow, green, and then finally the shadows on the bench are blue.
This one (above) I shot in HDR.
These next few were also shot for the color assignment, plus it was just before Halloween, and I just wanted to shoot pumpkins! They're also in HDR.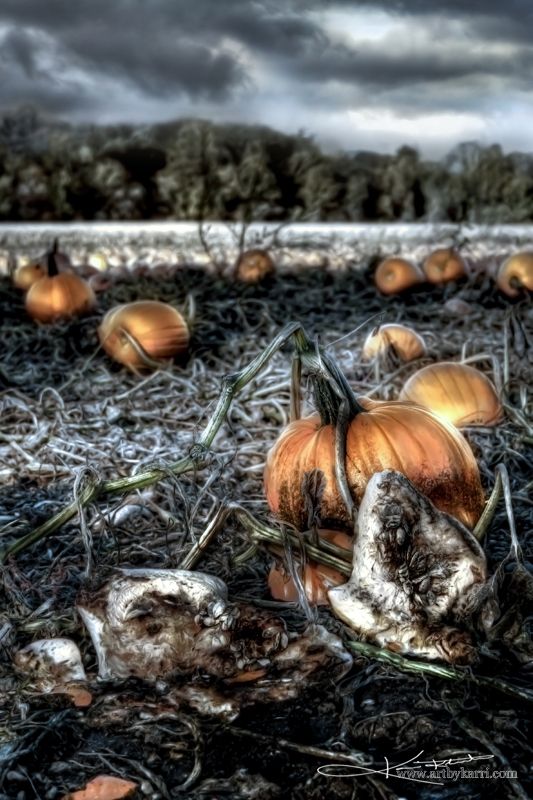 Do YOU see the skull in the pumpkin? That was just how the smashed in part looked, not added!
And the last assignment was Backgrounds and Pos/Neg Space.
This one really didn't have to do with the assignment, I just liked it!
And of course I had to do some of my kids.
Whew! That's a lot of pics! I'm done now!
Don't forget to check out Will Fields Photography Workshops and if you are in the Grand Rapids, Mi area, he's running a Living Social Deal on select classes right now!
And, head over to his facebook page for a chance to win a free photography class or photo walk of your choice!
*
---
I'm not sure why I feel the need to add "another non-cover post" to my title. LOL Seems like all my posts are about covers lately. Used to be, all my posts were about photography or art. So once in a while I need to throw something non-cover related out there.
Most of my time now days is spent on doing cover art, but not all of it. I felt the need to get away from Photoshop a bit, and get in touch with my camera again, so I took a local photography workshop called "Critiquing Your Photography" instructed by Will Fields. If you're in the area, and have an interest in photography, I highly recommend taking one of his classes. Will offers a variety of photography classes/workshops both here in Grand Rapids, Mi and in St. Louis. Varying from a 1hr Private Instruction classes, to Beginning Photography, to In Studio Lighting, to Nature Photography, to Critiquing your Photography, to weekend Photography Tours.
I had a great time, learned a lot,  made a few friends, shared a bit of Photoshop knowledge, and took a bunch of pictures over the 4 week course.
Now I'm gonna share some of my pics!
I did do a post previously on the first assignment, which was called "A Non-cover Post" (go figure!) Though technically I wasn't doing those pics FOR the assignment, I had it in mind, was sort of a practice/prelude. I had planned on doing something else, but life happened and I wound up using those shots anyways. The assignment was to pick a famous photography, and try and recreate their work/style. For those of you who don't want to go back and read that post, just want to see pics, here are a couple from that. (no PS)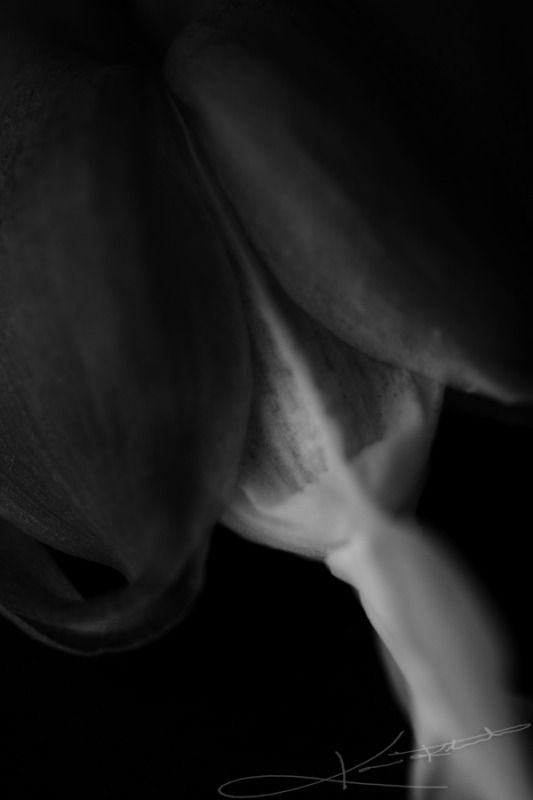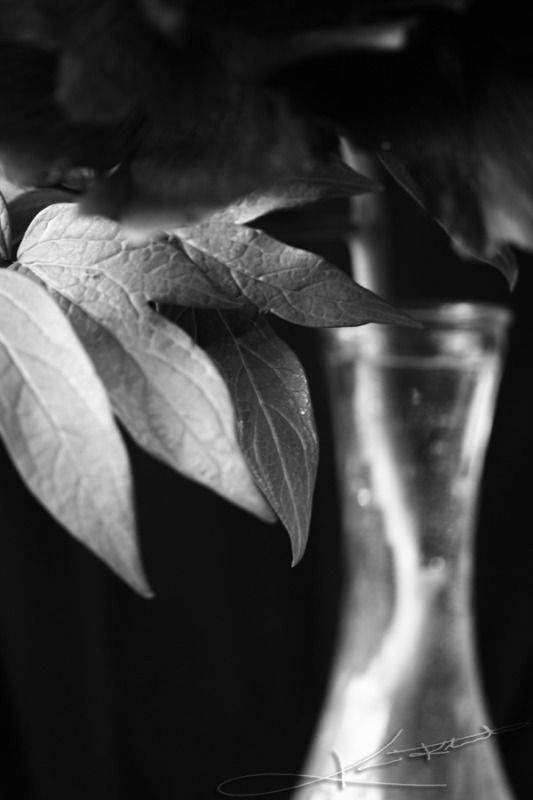 And more pics taken during the time frame of the workshop:
A Photowalk we did downtown (only cropping done)
Clouds:
An old school house one of my classmates and I found, working on shutter speed.
More shutter priority work, we were to capture motion, decided to go downtown at night, overlooking the highway.
(played with the color a bit in PS on this one)
Then I got a bit preoccupied by the way the light reflected off the Grand River, and ignored the whole motion thing:
I also tried having the kids play with flashlights at night:
And since I'm sharing pics, here are a few, not connected to the class, but a couple of us joined the Grand Rapids Flickr Group on their monthly Photowalk.
In case you missed the link above, this is Will Fields Photography website, and his Photography Workshops website.
---