Everyone expresses their creativity in their own ways. Sometimes it can be taken too far, but where do you draw the line?
The other day I was working on the computer while my 4-year-old daughter was sitting, back against my arm, watching cartoons. Well I thought she was watching the cartoons. When I got up to get something, she turned into the couch like she was hiding something. When I looked, she had a marker in her hand and was drawing all over herself. I mean EVERYWHERE!  I asked her what she was doing, and she said she wanted to be a pretty picture. I couldn't keep a straight face, it was just too adorable. So instead of punishing her, I told her if anyone asks, to tell them she is expressing her creativity.  Then of course, I had to take pictures!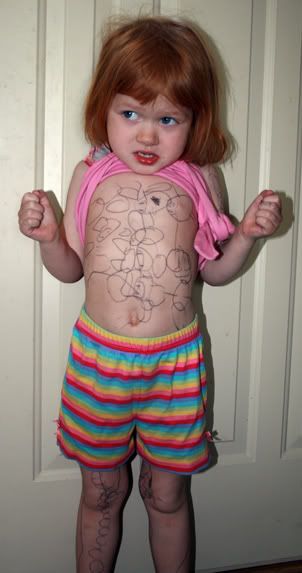 She just looks so proud of herself, doesn't she?
A couple days before this little expression of creativity, she was playing in her room very quietly. Suddenly, she comes out to the living room to tell daddy she has his pencil.  Instantly I knew she drew on something. I asked what she colored on, and she looks at me all innocent like and says "On paper only, I only draw on paper." Of course I didn't believe her and asked her if she was coloring in her books again (which she recently got in trouble for). Then she says yes, but it was a coloring book. I told her to go and get it for me so I can see. She runs down the hallway, and I hear her opening up the closet where I keep the coloring books, then she runs back with one. She opens it up to a page that was colored and says "See, I colored in my coloring book."
 First of all, I never heard her get one out and put it back. Second, she said she colored with daddy's pencil, and the coloring book was colored with crayons. I let it go, assuming she colored in one of the books on her shelf that she had already colored in. I really didn't feel like yelling and punishing her at the time. I know, I know, you should never let a 4-year-old get away with something because they'll just push it further. 
Later that night, when I went to tuck her into bed, I found what she really colored on. One of her walls, in her recently painted bedroom, is now sporting a mural of people holding hands, and flowers. It was just too cute to punish. Man I can be a softy sometimes.
Here are a couple pictures. Her walls are Pepto Bismal Pink (not my choice) and the flash left a glare, so I had to make them black and white so you could see the drawings.
Honestly, I really don't let the kids get away with drawing on things they aren't supposed to, but come on? How could you resist these?  She's just expressing her creativity!  My little artist in the making…..
---
The Challenge: Using a particular stock image, and using it to create brushes, textures, and or layers on your own image, to create a work of art.
The Goal: Well, to make the most creative, eye-pleasing work of art, of course!
This was A Photographer's Craft's latest challenge. Once again I took the challenge. It wasn't as easy as it sounds, trust me. Especially since, at the time, I was in my slump.  The stock image we had to use was this:
The Catch: Not only did we have to try and be creative, we had to remember and share our processes in creating our pieces! Almost sounds like school huh? You can find the forum thread with these details here.
Being in a slump as I was, I didn't have any new photography to play with, nor was I in the mood to take any. So, I dug through a bunch of "junk" images, old photographs I had no intention on using, but haven't deleted them yet, you know the type. I came acrossed a photo I took this past summer of one of my miniture roses. Here's what I started with: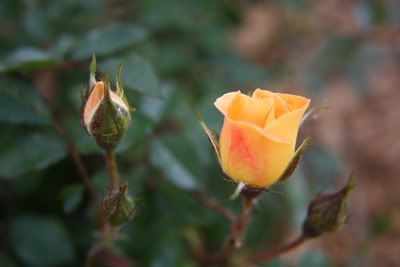 And since I'm too lazy to go through all the steps I did again, I will just copy and paste what I wrote in the forum
Let's see if I can fully remember this.

1. Overlayed a different texture over my original image. (Hey, there was no rule stating I couldn't use additional textures!)
2. Did a layer mask and erased the textures from the actual flowers.
3. Played with the channel mixer.
4. Brought the stock image onto my image, free transformed it much larger than my image.
5. Flipped the stock image horizontally, moved it to where I wanted it.
6. Decreased the Red channel's saturation on the stock image, almost all the way down.
7. "Overlayed" the stock image onto my image.
8. Did another layer mask to clean up over the flowers, so the stock image was behind the flowers.
9. Did a little dodge and burn (baby).
10. Went back to the stock image and did a select color rage on the background (the blue sky) Copied it, and pasted it on my image.
11. Set the new layer over as "Pin light"
12. Flattened image
13. Decreased saturation a little, upped the brightness, decreased contrast.
14. Did a little more burning.
15. Added a sepia photo filter.
16. Created a new layer, used a faux text paintbrush for the writing, switched that layer to "Overlay"
17. Adjusted the brightness/contrast again, this time increasing contrast a tad.

And Done!
And my final image, and entry was:
I didn't win, but I did take 3rd place!
The piece that took 1st place was:
Ode to Banksy by Adrian Rachele
The rest of then entries were:
A Year of Novembers by Dana DiPasquale
afraid of the light by andreasphoto
autumn collage by Adriana Glackin
Ghosts of the New Desert by smallfox
Breath in Deeply Autumn Wind by Freelancer
Memories of Autumn by Misti Hymas
***************************
All of my work can be puchased as premium art cards, and most are available as matted prints, laminated prints, mounted prints, canvas prints, framed prints, and posters. All in varying sizes. To see more work and/or purchase click here. (or click on a particular image)
Example Card:
Or, if you are more interested in bulk items, or other products such as postcards, magnets, mugs, US postage, and more, visit the Art by Karri Store.
Example Product:
---