Everyone expresses their creativity in their own ways. Sometimes it can be taken too far, but where do you draw the line?
The other day I was working on the computer while my 4-year-old daughter was sitting, back against my arm, watching cartoons. Well I thought she was watching the cartoons. When I got up to get something, she turned into the couch like she was hiding something. When I looked, she had a marker in her hand and was drawing all over herself. I mean EVERYWHERE!  I asked her what she was doing, and she said she wanted to be a pretty picture. I couldn't keep a straight face, it was just too adorable. So instead of punishing her, I told her if anyone asks, to tell them she is expressing her creativity.  Then of course, I had to take pictures!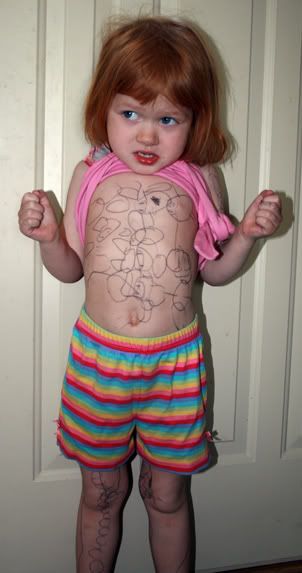 She just looks so proud of herself, doesn't she?
A couple days before this little expression of creativity, she was playing in her room very quietly. Suddenly, she comes out to the living room to tell daddy she has his pencil.  Instantly I knew she drew on something. I asked what she colored on, and she looks at me all innocent like and says "On paper only, I only draw on paper." Of course I didn't believe her and asked her if she was coloring in her books again (which she recently got in trouble for). Then she says yes, but it was a coloring book. I told her to go and get it for me so I can see. She runs down the hallway, and I hear her opening up the closet where I keep the coloring books, then she runs back with one. She opens it up to a page that was colored and says "See, I colored in my coloring book."
 First of all, I never heard her get one out and put it back. Second, she said she colored with daddy's pencil, and the coloring book was colored with crayons. I let it go, assuming she colored in one of the books on her shelf that she had already colored in. I really didn't feel like yelling and punishing her at the time. I know, I know, you should never let a 4-year-old get away with something because they'll just push it further. 
Later that night, when I went to tuck her into bed, I found what she really colored on. One of her walls, in her recently painted bedroom, is now sporting a mural of people holding hands, and flowers. It was just too cute to punish. Man I can be a softy sometimes.
Here are a couple pictures. Her walls are Pepto Bismal Pink (not my choice) and the flash left a glare, so I had to make them black and white so you could see the drawings.
Honestly, I really don't let the kids get away with drawing on things they aren't supposed to, but come on? How could you resist these?  She's just expressing her creativity!  My little artist in the making…..
---
I haven't posted in a while, so I thought I would do a quick post on what's new and going on with me. I haven't gotten out with the camera much this winter, but I did set up a couple floral shots. Hopefully, with the weather warming up, and grass getting greener, I'll be able to get out and get some new work!
For more Zazzle products featuring these images click here.
And one candle image, that is only available on Zazzle.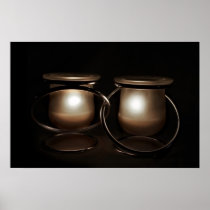 **********
I also worked on a new photomanipulation. This was intended to be the 'sequel' to Ephemeral Partings, but it seemed to get away from the oringal design a bit.
**********
There are also a few new digital abstracts.
For Zazzle products featuring these images click here.
**********
 I also have a few new t-shirt designs on both Redbubble and Zazzle.
Of course the designs are available on other products too.
**********
I was also asked to illustrate a Fire Saftey coloring book, which is in progress, and was able to create some products featuring 2 of the characters.
For more of my firefighter Zazzle products click here.
**********
 I also started making business cards designs on Zazzle. You can view them all here, but here are a couple examples.
As you can see, I like the black cards. All of them are customizable, and the colored ones in the middle can have their background colors changed.
**********
Geesh, I guess I have been busy! But I have found time to take my kids to the park.
**********
 Additionally, I just sent out a bunch of images to be printed. I hope to be hitting the art show circuit this year. I already have a few lined up. Wish me luck!!
---