Everyone expresses their creativity in their own ways. Sometimes it can be taken too far, but where do you draw the line?
The other day I was working on the computer while my 4-year-old daughter was sitting, back against my arm, watching cartoons. Well I thought she was watching the cartoons. When I got up to get something, she turned into the couch like she was hiding something. When I looked, she had a marker in her hand and was drawing all over herself. I mean EVERYWHERE!  I asked her what she was doing, and she said she wanted to be a pretty picture. I couldn't keep a straight face, it was just too adorable. So instead of punishing her, I told her if anyone asks, to tell them she is expressing her creativity.  Then of course, I had to take pictures!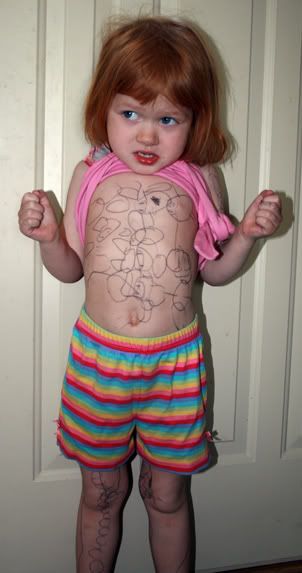 She just looks so proud of herself, doesn't she?
A couple days before this little expression of creativity, she was playing in her room very quietly. Suddenly, she comes out to the living room to tell daddy she has his pencil.  Instantly I knew she drew on something. I asked what she colored on, and she looks at me all innocent like and says "On paper only, I only draw on paper." Of course I didn't believe her and asked her if she was coloring in her books again (which she recently got in trouble for). Then she says yes, but it was a coloring book. I told her to go and get it for me so I can see. She runs down the hallway, and I hear her opening up the closet where I keep the coloring books, then she runs back with one. She opens it up to a page that was colored and says "See, I colored in my coloring book."
 First of all, I never heard her get one out and put it back. Second, she said she colored with daddy's pencil, and the coloring book was colored with crayons. I let it go, assuming she colored in one of the books on her shelf that she had already colored in. I really didn't feel like yelling and punishing her at the time. I know, I know, you should never let a 4-year-old get away with something because they'll just push it further. 
Later that night, when I went to tuck her into bed, I found what she really colored on. One of her walls, in her recently painted bedroom, is now sporting a mural of people holding hands, and flowers. It was just too cute to punish. Man I can be a softy sometimes.
Here are a couple pictures. Her walls are Pepto Bismal Pink (not my choice) and the flash left a glare, so I had to make them black and white so you could see the drawings.
Honestly, I really don't let the kids get away with drawing on things they aren't supposed to, but come on? How could you resist these?  She's just expressing her creativity!  My little artist in the making…..
---
It must be the weather. We've finally gotten out of the dreary Michigan winter, and spring must bring forth some creative juices. I have a couple new pieces to share! Yay!  So here they are:
Preconcieved Illusion (the last one if you can't read the title) has become an instant fav of mine.
All of my work can be puchased as premium art cards, and most are available as matted prints, laminated prints, mounted prints, canvas prints, framed prints, and posters. All in varying sizes. To see more work and/or purchase click here. (or click on a particular image)
And don't forget to check out other great products featuring these images at Karri's Zazzle Store!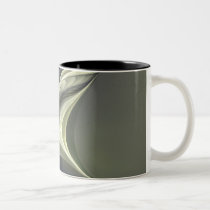 ---
I thought I'd do a post sharing some of my photomanipulations. If you're wondering what a photomanipulation is, it's just what it sounds like, manipulation of a photograph. Now granted, most of my work would technically be considered manipulated because I did manipulate it one way or the other.  Some people can get picky with that, but most consider photomanipulation a style or category of art in which the artist generally takes more than one photograph, combines them and "photoshops" them to create a totally new image. 
There are a lot of photographers who offer up their images to be used as stock for photomanipulation artists, as long as they get credit, and the end product is a completely different from the original image. Personally, I'm still not terribly comfortable using other peoples images for my own work, then taking credit. I don't know why, it just feels weird, so I try to use as much as my own stuff as possible. However, that is not always possible, especially when it comes to models. I just don't have anyone, nor the costumes for my own models. Recently, in my attempt to combat the winter blues, I have created a few images that are all stock, and I have to say, the results speak for themselves. Sometimes you just have to give in and go with the flow. Using stock is just so much easier. There is anendless amount to choose from, if you have something specific in mind, you can usually find it, and lets face it, using stock from photographers across the world opens you up to locations you could only dream to visit on your own. So let me take a minute here and say THANK YOU TO ALL YOU STOCK PHOTOGRAPHERS that allow us couped up, sun depraved, bored artists to create something we never could without you!
I suppose I should get on with it huh? A few of these I have had around for a while. The first 3 are my newest.
STOCK CREDIT:
Model: mizzd-stock    Background: cave- steppelandstock combined with one of my own images.
STOCK CREDIT:
Models: woman- mizzd-stock, man – dragon-orb, wolf - breedstock
Background: nomuh
STOCK CREDIT:
Model: faestock 
Background: all mine, that's actually my front yard LOL!
The rest of these are a little older, you may or may not have seen them before.
No stock credit, all images were mine. Except for the brushes used for the butterflies. Unfortunantly, I don't remember where I got those.
STOCK CREDIT:
Model: faestock  Foilage Brushes: LadyVictoire  Background: mine
STOCK CREDITS:
Model: faestock  Background: mine
I hope you enjoyed!!
All of my work can be puchased as premium art cards, and most are available as matted prints, laminated prints, mounted prints, canvas prints, framed prints, and posters. All in varying sizes. To see more work and/or purchase click here. (or click on a particular image)
Example Card:
And most are avaible as various products at Karri's Zazzle Store Front!
---